6/24/2010 Update – I no longer do this and don't recommend you do it either unless you really need the money. Keep your own posts for your own blog . There are other ways to make money that are better than this.
_____________________________________
You have probably seen a pay per post ad like this one on many blogs. The problem with them (other than Google may lower your page rank to 0 for using them) for new bloggers is that before you can participate you have to have a blog that is three months old. Many bloggers never really make it past the three month mark! Another problem is that you have to pick offers and thus you may not be writing about things you truly believe in or are passionate about.
What I have done is submit some of my longer future "posts" to Associated Content first. It is FREE to sign up and they have paid me an average of $4.00 per article and I submit everything as "non-exclusive". They are great as they approve my articles in 3 to 4 days and pay through PayPal almost right away. I love being paid into my PayPal account as that is where I pay all my expenses out of and it is nice to be able to keep that account in the positive. Here is a screenshot of some of my payments they made to me for articles that I had laying around. Pretty easy money: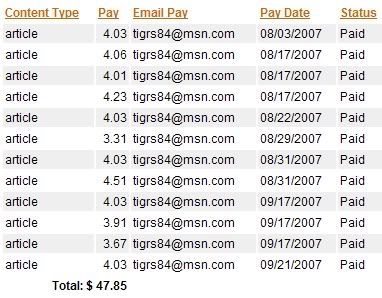 Once they approve my article and I get paid, I make a few adjustments to my "article" and it becomes my "post".  The drawback to this is that I have to plan in advance for it to work. With this strategy what I write today many not be able to be used here for at least a week.
Many bloggers who are just starting out hope to make some money from their blog and quickly get frustrated when they realize it is harder than they thought. If they were to get $4.00 or so from some of their articles/posts it would give them faith and give them a better chance of succeeding. If you want to make money online by writing, give Associated Content a try!
Technorati Tags: Associated Content review, get paid by Associated content