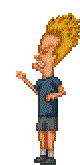 This post is my third article of my Ebay Secret Niche series but it is a little different from the last two. That's because you can't make money with this particular product anymore. You can however, keep on the lookout for more like it as I will discuss. Please read the first two articles Ebay Secret Niche 1 and Ebay Secret Niche 2.
It was either 4 or 5 years ago that Time Life got the exclusive rights for the cult TV series Beavis and Butt-Head collection DVD's. These rights were only for a limited time (I think a year) and during that time you could not buy Beavis and Butthead anywhere else but on their website.
It was the first time that Beavis and Butt-Head were on DVD and demand for these DVD's was quite high on Ebay. The DVD sets sold on Time Life for $29.99 and they were selling on Ebay for anywhere from $30.00 to $45.00! The reason they sold for more on Ebay was that demand was high and people did not know where to get them. The DVD's were not sold in any store and most people did not know to go to Time Life.
Using an online coupon code, you could also get anywhere from 10% to 15% off and free shipping if you ordered through Time Life. I saw an opportunity and did my best to milk it for all it was worth!
There was a problem (there always is) and that was that Time Life caught on to what I was doing (and others were doing the same thing) and didn't want to sell the DVD's to me. If I could have I would have ordered 50 or 100 sets at a time as I could sell as many as I wanted with a "Buy It Now" on Ebay but ordering that many sets would, I assumed, raise a red flag somewhere. Instead, I would order 10 DVD sets at a time to try and keep under their radar. Eventually though, someone at Time Life figured out what people were doing and put the clamps down.
It seems Time Life wanted to sell their DVD's (as their ad on TV stated) but just not to me.  They sent numerous emails stating that the DVD's were for personal use and not for resale. Well, I won't go into the stupidity of that statement because once anyone buys any item they own it and can rightfully resell it. I got into several email arguments with a customer service lady at Time Life but eventually she cut me off.
In the end I was able to sell around 150 of these DVD sets and I made about $10.00 per set. It was especially nice because the sets all came in a big box and within the box were the DVD sets all ready packaged for shipping (the sets were prepackaged by Time Life and meant to ship to customers one at time).
This is another way people make money on Ebay. They can look for online coupon codes and get items for a discount and then turn around and sell it on Ebay for full value. The item has to be a hot item for that to work however. Demand has to be high on Ebay or that strategy will not work.
Right now, Time Life has the exclusive rights to the "Get Smart: The Complete Collection" DVD set and is selling the set for $199.95. If you type "time life coupon" into Google you will be able to find a code for 15% off and free shipping (code AFDEAL-good as of 9/9/07). That brings the price for you to $169.96. On Ebay as of 9/4/07, there were several sellers selling the set for a buy it now of $200.00 and free shipping and they were making sales. In the last week though it looks like the price has dropped. This is an example of a possible way to profit during the Christmas season when the demand for this set might go up. If you were to offer this set for $200 and send it by USPS Media Mail (will cost you less than $5.00) you would make about $25.00 per set! 
There is of course risk if the price does not go back up or too many sellers start selling the sets but there is always some risk in business. Again, with Christmas right around the corner demand should go up. This Get Smart DVD set is not the perfect example because the price of the item is so high and thus the risk is high. Time Life is a company that periodically obtains the exclusive rights to DVD sets like this one and there probably will be other opportunities in the future. It takes work to monitor Time Life as well as Ebay but when you find an item and are quick to buy it and then sell it on Ebay, a nice profit can be made.
If you enjoyed this post and want to learn about more ways to make money, please make sure you subscribe to my RSS feed HERE. Also, if you have any Ebay "Secret Niches" you would like to share with my readers (and get credit and links back to your site) please contact me.
 Similar articles:
4 Ways To Make Money Without A Website
Newbies Start Here
Incentivized Freebie Websites Tutorial (IFW) – Part 1
Ebay Secret Niche Revealed – Niche #1
CashCrate Review
How I Made Over $30,000 Playing Online Poker
Technorati Tags: Ebay affiliate program, make money on ebay, buy and sell on Ebay