I hate ebooks about how to make money online. You see them everywhere and they range in price from single digits all the way into the thousands. The authors all claim to have the best and only "system" or ways to make money you will ever need. If you think about it, why are they offering to tell you their secret and not just doing it themselves? Is it because they can make more by selling their "system" than they can by actually doing their system?
I have bought a handful of these work from home jobs books, just like you probably have, and never once did I feel that I got very much of value in return. Most ebooks will give you nothing more than a lot of general information that you can find online for free. The fact is that half of these ebooks are probably written by people who's only source of income online is selling the very book you just bought! They probably don't know much more than you do other than how to gather information off the Internet and put it into ebook form.
The prices they charge for their ebooks on how to make money online is often ridiculous. How many times have you bought a book in Barnes & Noble for $27.00 or more? I never have and it would have to be a very thick good looking book that I have skimmed right there in the store for me to shell out that kind of money. Why then are people willing to spend that on an Internet download that they know nothing about other than the authors trumped up sales pitch on how he is going to teach you better than anyone else how to make money online?
I frequent the "make money forums" and continually see posts from people who are frustrated and have yet to make a dime. Some have been trying for a week, others for 6 months, and some even for years. This post of how I made my first $2,000 online is for you. It is for anyone and everyone who is and has been frustrated by Internet marketing and just doesn't know where to start. It shows that it can be done by someone who knows absolutely nothing.
This is an actual STEP BY STEP guide of how I made my first $2000 in affiliate marketing. My methods were a bit primitive but nevertheless I did it and I made that money without spending a dime. This is EXACTLY how I did it and I want to say again I did it with ZERO out of pocket expense to me and that I did it in about 3 1/2 months time. Not too bad for an absolute beginner.
STEP ONE
Pick an affiliate product to sell. This unfortunately may be one of the hardest steps and you could fail on your first try. There are so many products to choose from and so few ways to find out which ones are selling and may be the right ones for you to try to sell. I suggest signing up at ClickBank or Commission Junction. You want to make sure that the first product or products you try to sell are not Internet marketing related. Selling "how to make money online" products is almost impossible when you yourself don't know how to do it. Leave that to the more experienced people.
You want to start out selling things to people who are less apt to understand that you are trying to sell them something so that you can get a commission. My parents, for example, would be a great target audience. They have no idea that some links are affiliate links and others are not.
My first products were the two Warcraft guides (Joana's and Brian Kopp's) which are sold through ClickBank. I might have gotten lucky that Warcraft was one of the especially hot online RPG games at that time (that's why I chose them) and within about 2 weeks of starting I was making an average of about a sale a day. Not everyday was the same, some days I might have made 3 sales and other days none, but one a day was the average.
I then diversified a little and also started selling some health related items from Commission Junction. Those were targeted at women who I thought might be a little less likely to know about or care about what an affiliate link was.
Step Two
After you have selected a product that you would like to sell, you need a destination for your prospective buyers to go. You need a webpage of some sort. I wanted to start out for free and therefore did not want to buy a domain. I did not know how to buy a domain and if I got one would not have known what to do with it. I had heard so much about WordPress and Blogger as being great free blogging platforms that I signed up with both of them. I must say that I did not know anything about their terms of service and I still don't (I don't need to anymore because I have my own domains). I have heard that some users have had their accounts terminated for having too many affiliate links on their free blogs. Just remember that if you open up a free blog you really don't own it. Keep that in mind before you spend too much time making it look just perfect.
(Since I wrote this I have been told that affiliate links are against the TOS for WordPress. Nevertheless, I got away with it but you should try Blogger instead. Just do a similar thing with Blogger as I have outlined below)
Step Three
I started with WordPress so I will use them as an example. Click on the "sign up now" button which will take you to a screen that will ask you for a username, password, and email address. Pick your username and password and type in your email and click the "Next" button. You will be taken to a page that looks like this: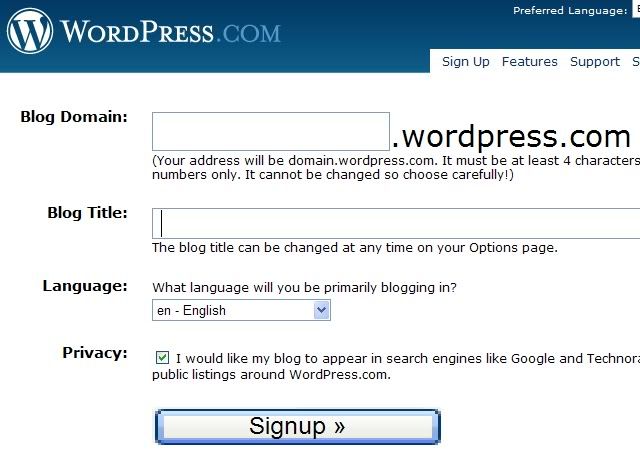 This page is where you will choose your blog name (domain). Pick a name that is sort of neutral. In other words, pick a name that can go with any product you may decide to sell such as "reviewsite" or "reviewweb". Don't pick a name like "JoesBlog" because that will look strange if you are promoting things on it. Finish filling out that page and press "Signup". If you have no errors and have picked a blog name that no one else has then it will take you to the final page that looks like the picture below.
Step Four
Now that you have a blog and have named it, the next step is to choose a layout for your blog. You will need to get into the "Dashboard" of your blog and click on the "Presentation" tab along the top. Once you do that you will find about 5 pages of thumbnail pictures of the different blog layouts you can choose from. I suggest choosing one that looks the simplest and the least like a "blog' that you can find. I have had success with the "WordPress Classic" theme that is shown on the 5th page (at the time of this writing) of the blog layout choices.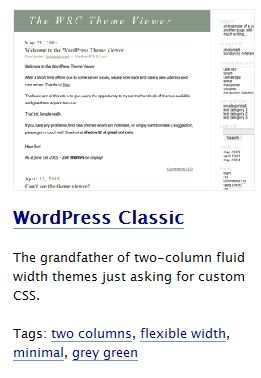 Click on the theme you decide is best (you can easily change it if you decide to later) and then click the "Activate This Theme" in the upper right hand corner. Another good theme you might try is the "White As Milk" theme on the same page.
Step Five
The next thing I did was to make a landing page on my blog where the visitors would "land" and hopefully click my link to the seller's ad. For this I did a lot of copying and pasting. I went to Brian Kopp's Warcraft front sales page and copied sections of his page and then pasted it on to mine. I had to do a lot of tinkering with this as things don't always copy/paste as you want them to. Centering things and aligning them was another challenge for me as a beginner but with a lot of trial and error I got it to look OK.
To get the page as clean as possible I had to delete everything I could find like the default post and the blogroll. I then had to click the "presentation" tab and then the "widgets" sub-tab to get to the sidebar. I then dragged the "links" widget up into the sidebar which got rid of some of the other stuff on the side of the blog. Also, go here if you need to know how to make a basic hyperlink.
For this tutorial I have opened up a free WordPress blog (called "reviewmeplease") and I have recreated the exact landing page I made when I first started out. It is not for the Warcraft guide but for another ClickBank product. Click HERE to see that example of the landing page I made for the "Stop Sweating and Start Living" ebook. All the affiliate links have been disabled. It looks like WordPress shut this example blog down even though I had no links on it. This is why you need to use Blogger or have your own domain.
This is not the best landing page you will ever see and in fact it is quite poor. However, I did it all for free and that was what I wanted. I hoped that I could get a few potential buyers to my page and they would be interested enough in learning the "Stop Sweating" secret that they would click through to the more professional seller's page. Once there, it was up to the seller to make the sale. My job was just to get them there.
Step Six
Now I had to get targeted traffic to my site/blog/landing page(s). I used Craigslist exclusively for this. You have to make sure you post your ads in the correct sections or they will get flagged for sure. In the case of the Stop Sweating product I posted my ad under "Services Offered' and then "Beauty Services" and it looked something like this:
Do Away With Those Underarm Sweat Problems (Title)
This book will reveal a 100% all-natural step by step
process that you can use to quickly and easily
eliminate your underarm sweat problems forever.
Please click HERE for more information.
I made 5 variations of this ad which was quite easy to do and I had each variation on an Excell spreadsheet. I would then make a post of each ad variation in five different cities. I could then change Craigslist email accounts (I had 10 of them) and make the same posts again in 5 more cities. I had to be very careful not to get too ambitious and post too much as I would then run the risk of having every ad flagged and deleted. You can read my article about how to post to multiple cities on Craigslist to see how I did it.
That is exactly how I made my first $2,000 dollars in affiliate marketing without spending a dime. I just kept posting on Craigslist which brought free targeted traffic to my blog/ad and sales started trickling in. I was making $16+ per sale of the Warcraft guides and $20 to $25 on a couple other health related products. It took about 3 1/2 months from my first sale to make $2000.00 and my expenses were ZERO.
It was very beneficial for me to start for free as I needed to build up my confidence. In the very beginning, I was a pure 100% newbie and I did not know whether I could ever make a sale. I had to find out somehow and I certainly didn't want to spend hundreds of dollars in the process. I learned a lot and figured out that, yes, you can make money online after all.
As I previously mentioned, I believe the biggest challenge is picking the right product. It remains that way for me to this day. Again I stress to pick products that will appeal to the general public – the everyday man or woman. DO NOT TRY TO SELL THINGS TO THE MAKE MONEY ONLINE INTERNET MARKETING CROWD.
The sheer number of products available to try to sell makes the decision tough. My related article discusses how you can test affiliate products on Cragslist for free. Craigslist is a wonderful resource if you learn how to use it but it requires patience as some of your ads will be flagged and deleted no matter what you do. Just remember that it is free and "free" is a very nice cost.
I hope you have gotten some value from this step by step guide to how I made my first sales in Internet marketing. There are many ways to get started but this one worked for me. Let me know if you have any questions or comments by leaving me a note in the "comments" field.
Related Posts
CashCrate Review – Real Money
4 Ways to Make Money Without a Website
All My "How To Make Money Posts"
A Different Way To Get Paid For Your Blog Posts
My Review / Experiences With Build a Niche Store (BANS)
Technorati Tags: step by step how to make money, how to make money, how to make money online, step by step how to make money online, make money, how to make money at home, make money at home, make money from home, ways to make money, make money fast, ways to make money online, ebook on how to make money, free ebook on how to make money