Why does he dislike his job so much? What exactly is the job that he dislikes?
Well here are the answers to those questions. In 1989 he got a job at the low end of the totem pole at a major department store matching their incoming invoices from their vendors with the receiving. It paid a whopping $6+ an hour and after 3 months that went up to the big time at $9+ per hour. It wasn't a bad job but it was just a job.
About a year later he was able to get a position as an in-house auditor with the same company. Not the kind of auditor that has a CPA and does taxes and such, but the kind of auditor that looks through tables and reports looking for overpayments. That job taught him most everything he knows today. It taught him how to be a treasure hunter.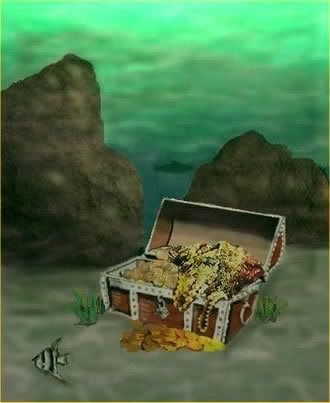 DayJobNuker stayed in that position for about 7 years. His job allowed him to work early hours and go home around 2 or 3 PM everyday. He really liked that and every time he started wondering whether he should try something else, they gave him just enough of a raise to keep him there. The last 2 years were not great however, as he was really starting to get fed up with the ridiculous politically correct office environment.
In 1997, DayJobNuker had had enough. He was so frustrated with the whole work in a cubicle till you die thing that he quit. He quit without any job offer to go to. That was when he got a big break. While at the job he just quit he had met someone who appreciated his abilities. That person owned a consulting company that did the same thing that DayJobNuker had been doing but they did it on a commission basis for many different retail companies.
DayJobNuker decided to give this new job a try. He would be self employed and get paid 100% on commission. He would go to different retailers (clients) and look for overpayments, duplicate payments, missed discounts, and a host of other things. If he found valid claims, they would then be deducted from the vendor's accounts and DayJobNuker would be paid the agreed upon percentage commission. If he found nothing, he would be paid nothing.
This was not an easy way to make a living and he came VERY, VERY close to quitting. Remember, nothing was paid for and if he had a job in another state he would have to pay for the airfare and hotel up front out of his own pocket. If a person has a bad day in a regular job they just go home and come back the next day. If DayJobNuker, on the other hand, had a bad audit he might be going home down a grand in expenses.
The industry title for such a job is a "retail recovery auditor" but he likes to say he is a "treasure hunter". There are many days he goes to work and makes nothing. But then there are a few days when he finds treasure (in the form of a duplicate payment or such) that make it all worthwhile. The biggest one day "treasure" he ever found was an duplicate payment of over $200,000.00 which made him around $19,000.00. Nice!
Overall, despite it's risks, the job in the end paid very well and DayJobNuker became very used to not having a boss (other than the client). No punching in, no stupid meetings, lots of time off, the ability to come and go whenever he wanted so long as the job got done, and no office politics to deal with. It was (and is) a job that many would love to have.
Why then has he had enough? The real reason is that he has now been doing virtually the exact same thing for 17 years straight. Let me tell you, 17 years is a long time to do one thing. The job requires looking at reports and computer screens all day that are filled with tiny little numbers. Concentration is vital for he has to recognize little inconsistencies to find his claims. He finds himself daydreaming way too often and that is bad. DayJobNuker is paid on commission and daydreaming pays nothing.
Another reason DayJobNuker dislikes his job is that he is still in the "office environment". Although he is not directly involved, he sits in and around others in their tiny little cubicles and can overhear all their life's complaints. HE DOESN'T CARE ABOUT THEIR PROBLEMS NOR DOES HE WANT TO HEAR ABOUT THEM!
Working for yourself and being your own boss is not for everyone. Many people can't:
1) save money on their own
2) need the government to withhold their taxes for them because otherwise they would spend it
3) need other people around them constantly so that they feel like they are on a "team" and
4) need to have someone looking over them because they are unable to do it themselves.
Those people will never, ever leave the security blanket of their J.O.B.. However, once you have had a taste of being self employed and NOT having to punch that clock, you will never want to go back. He dislikes his job right now because he has been at it too long and he doesn't know how much longer he can stretch it out. He certainly never wants to have to go post his resume again on one of the job search sites. But one thing is for sure, he can never go back to a real job. Never…and that may present a problem in the future.
Technorati Tags: I hate my job, hate job, I hate your job, be your own boss, DayJobNuker, work from home, make money from home, make money online, make money, how to be your own boss,