I love to go to garage sales and am always looking for things to resell on Ebay. But did you know that I also sometimes find garage sales at the grocery store? I don't know why more people don't do this. I eat a lot of canned soup and my two favorite kinds are Progresso and Campbell's Chunky. On an average week I probably eat 2 or three cans of it as it makes an easy lunch or dinner.
Last week I was walking through my grocery store and I found exactly what I always hope to find. Right there on isle #2 was a garage sale that was too good to pass up. The Campbell's Chunky soup was on sale for a buy one and get one free which is essentially 50% off!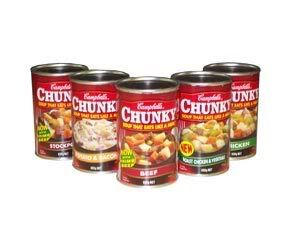 Sometimes there is a limit to the number of items you can buy for these types of sales. I looked carefully and saw nothing about a limit so I went off in search of a store employee to ask. I found a guy stocking the shelves and asked him whether he could help me with a question I had.
Once we were standing in front of the shelves of soup I asked him whether he knew whether there was a limit on the number of cans I could buy. "Why" he said, "how many do you want to buy?" I already felt a little embarrassed but I knew it was only going to get worse. "I'd like to buy about 150 cans if there is no limit" I said. I immediately knew by his expression that he had never been faced with this situation. "I don't think there is a limit but let me go get my boss" he said.
His boss came and we had the exact same dialogue. He asked me why I wanted so many and I told him the truth. I eat the stuff all the time, it lasts forever, and it is good emergency food in case there is another 9/11 or a big earthquake. He told me he would have to order it as he didn't want me to empty their shelves and that was fine.
A couple weeks later I got the call that the soup was in and I went down to pick it up. Again, it was sort of embarrassing as I was paying for it but it was worth it. The soup filled my entire trunk and I had to put some on the seat to fit it all in. All 150 cans of soup are now safely in my garage along with the other 70 or so I have from the last sale.
The other item I do this with is muesli cereal. I go through a box of that about every 3 days and the last time it went on a 50% off sale I kind of goofed. The sale lasted about 2 months and I got complacent. I acted as though the sale would never end and I only saved about 20 boxes. I kick myself every time I walk in the store now as it has not gone on sale since. The next time there is a big sale on that muesli cereal I am going to do whatever it takes to stock up.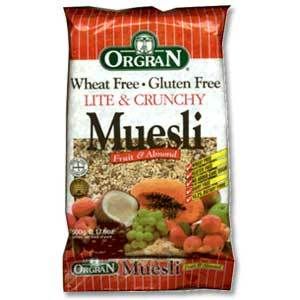 Have you ever done this in the grocery store or am I the only one? With a 50% sale on the muesli cereal I save about $2.00 a box as it is normally $4.00. If I buy 200 boxes, which I will I swear, I will save $400.00! Why don't more people do this?
If you enjoyed this post please make sure you don't miss anything and subscribe to my RSS feed HERE.
{democracy:8}
Technorati Tags: garage sales, garage sale shopping, shopping for garage sales