Ok, maybe that is a bit harsh but sometimes I wonder. I'll give you some examples of my blogging pet peeves that I found from surfing different blogs. Now I know the situation is not exactly the same for every blogger and some of these examples might be alright in certain cases. Generally, however, these things just scream that you are new and well, not so smart.
1) This one irritates me the most and is actually the catalyst for this post. I see so many new blogs that have a blogroll something like this one:
OK, so, that blogroll belongs to a blog that is less than 2 months old and has linked to John Chow, ProBlogger, Shoemoney, Tyler Cruz, and Zac Johnson. WHY do you do that???? Why do you give them free advertising????
Do you think those guys are going to come read your blog just because you linked to theirs?
Do you think they are then going to link back to yours and write about you and tell all their readers about this great new blog they have found?
Do you think that those guys are going to thank you for linking to their blogs?
Do you think they are going to go and ask you to guest blog on their blog?
Do you think they are going to want to be your friend and ask you to hang out with them?
Do you think they are going to take a personal interest in you and your blog once they find out that you have done them the honor of linking to them?
In case you don't know, the answer to all these questions is that they will never, ever acknowledge you.
2) Why would you put a widget on your blog that tells everyone you hardly get any visitors? Why would you not take this off and wait until you do get some visitors!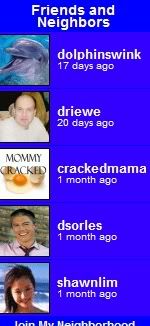 3) Why would you put your sad feedburner stats right there for everyone to see. Don't you understand that it is telling everyone that you have no readers? Here are two examples that immediately tell everyone your blog is new or dead:
4) Why on earth would you display a badge that tells the world that you have an unpopular blog? In the one below, are you proud that you are #261 out of about 280? Is that something to brag about? Lets all chant now: Yay, I'm #261, I'm #261, I'm #261.
5) Most bloggers have absolutely nothing original to say. So, they rely on other blogs and report what they see. Do you think I am going to read your blog when all you do is parrot what others are saying or doing? When you write something like is shown below I know you have absolutely nothing to say and I won't return!

6) And finally, why would you tell the world about how little you have made online? In the case below, do you actually think I will read your blog after finding out that you have made a whole $269 in 21 weeks?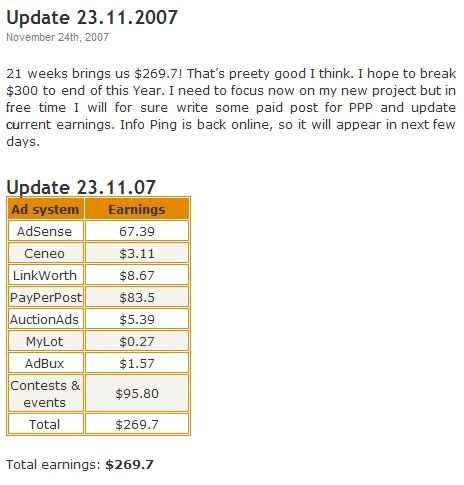 Other Interesting Posts
Make Money With EVERY Visitor To Your Website!
4 Ways To Make Money Without A Website 
Make Money With CashCrate
Ebay Secret Niche Revealed – Niche #1