If you want to make money online and are wondering "how do I start blogging?", I think the evidence is in: don't buy a blog! Late last year after the new Google page ranks came out there was  a rash of blogs being put up for sale. I think CashQuests.com went for the most of the bunch at $15,000.00 followed by OneMansGoal.com at $8,500.00 and then a handful more at less than that.
Looking at the Alexa charts of three of those sites, you can clearly see where the sales were made and the subsequent drop off in viewers after the sales. Blogs are hard to maintain and no matter how you look at it, they are the personal property of the owner/writer. Every blog has a personality and the readers either like it and stick around or they leave. When a blog sells, that owner is gone and so is everthing he/she brought to the table.
I like certain blogs because I am entertained by the owner of the blog or value what they have to say. If they were to sell, then that person's humor and style is gone and I no longer have any interest. For all practical purposes, the blog with the new owner becomes a new blog.
You can see by looking at the charts below what I mean. In each case, the numbers of readers for each blog plummeted after the sale and they continued downward until leveling off at a very modest readership. I can only imagine the pain being felt by the new blog owners as they realize what a monumental mistake they have made. The new owner of CashQuests hasn't posted in a week and a half as of today for a blog he paid $15,000 for! Has he given up already? Whether you have a brand new blog or buy an established one, you are still going to have to figure out how to drive traffic to your blog. It won't come by magic.
Making money with a blog is hard anyway, whether you start with readers or not. Yes, maybe the top handful of bloggers can make money doing it, but they work hard at it every day. Don't be fooled by those top bloggers who try to convince you to follow them and they will show you how to become a pro blogger. They know very well the overwhelming odds are that you will fail. Try if you want but there are easier ways to make money from work at home jobs than blogging.
OneMansGoal.com sold for $8,500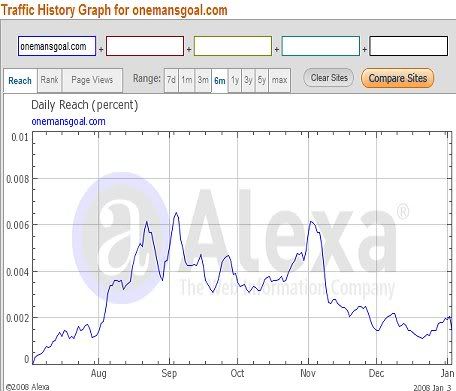 CashQuests.com sold for $15,000

SiteFever.com sold for $1,250