In my experience there are three kinds of office setups.
Most companies I have gone to  have cubicles all over the place. Maybe not quite as drastic as the picture below, but similar. The normal worker bee gets a smallish size cubicle to spend his/her days in. Many put pictures of their kids and family up and other assorted junky stuff to remind them of home. The manager type person will get a larger cubicle which often has the added bonus of some sort of a round table in it with a couple of chairs. That table is great for impromptu meetings and chewing out the worker bees!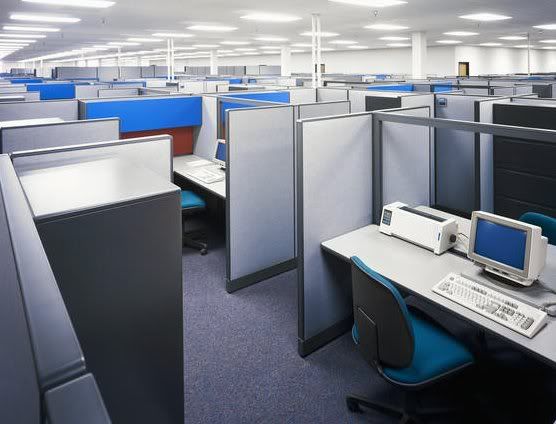 Is this cubicle hell or what?
The second type of office set up has no cubicles but a lot of desks throughout a large room. Everyone can see one another and often hear them too. While you are not confined to a small cubicle space, you have no privacy.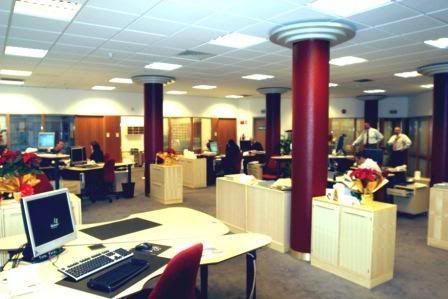 The most rare office set up is where everyone has an office. I live right in the heart of Microsoft territory and virtually all my neighbors work for Microsoft. They tell me that there are no cubicles in any of the buildings. There are now dozens of buildings on the Microsoft "campus" and they are all set up so that everyone will have their own office. In recent years, however, with more and more employees and the lack of space, I am told many people have to double up in an office.
A work situation where everyone has their own office has to be rare. Space is always at a premium and I would think only certain companies can afford that kind of space for every employee. What kind of space do you have at work?
{democracy:10}