8/18/2010 Update: This was written over 2 1/2 years ago and last month my HP PC died. The graphics card went berserk and I had all sorts of problems ending with being attacked by a virus that I couldn't get rid of. I did some research and found out the HP graphics card problem was a big one and HP extended the warranty 2 years and you had to mail your PC in to get it fixed. I wasn't going to do that and the virus thing was the nail in the coffin.
Bottom line: I BOUGHT A MACBOOK PRO and I love it. Yes, it is more expensive but my PC pissed me off for the last time! I now love the Macs because they turn off and on so fast and you don't waste half of your life waiting for them to do something. My MacBook Pro took a couple of days to get used to but if you are at all familiar with computers and PC's, you CAN make the change and learn quickly. I will never buy a PC again as I am officially a Mac guy now.
The MacBooks never seem to go on sale so there is only one place that I know where you can get them a little bit cheaper and it is here at MacMall – MacBook Pro
__________________________________________________________
This was written on 1/27/2008 so it is OLD —->I've been spending the last two days transfering all my files and setting up my new laptop PC that I just bought. I got the HP Pavilion dv9740us Notebook PC and in the end the decision to buy a PC over a MacBook Pro was easy.
I love new and cool technology and I really wanted to buy a Mac but the price was just not competitive on any level. I have heard and read so much about how great the Mac's are and their new operating system Leopard seems to be very well liked. I love the Mac vs. PC commercials and the Mac's just seem to be cooler. I so badly wanted to try something new and cool!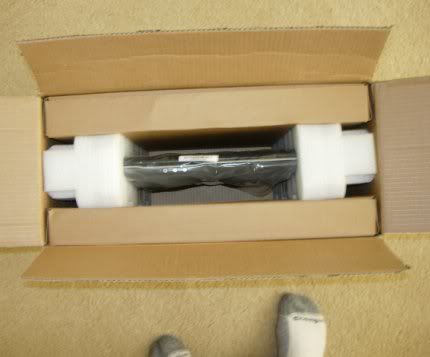 Ahhh. A brand new laptop fresh in the box (feet sold seperately)
I needed to get a 17 inch screen as I do a lot of work with Excel and Access for my job and having the wider screen will be great. So, I was looking to buy the MacBook Pro 17″ or a PC with a 17″ screen. The price difference between the two was HUGE!
MacBook Pro 17″ comes with:
2 GB of Ram
One 160 GB hard drive
$2799.00 price tag
The HP Pavilion dv9740us Notebook PC comes with:
3 GB of Ram
Two 160 GB hard drives
$1199.00 price tag (after $50.00 mail in rebate)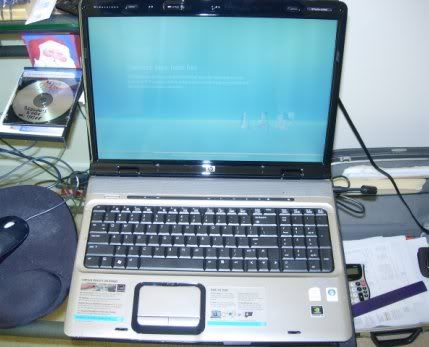 My new laptop PC!
The MacBooks never seem to go on sale and so how could I possibly justify paying more than double for something that got less Ram and storage? I couldn't and that is why I got the PC. It also comes with 4 USP ports, is BlueRay DVD compatible, and can be hooked up to your cable TV and used as a TV (it even has a remote for that).
I don't like the fact that it no longer comes with the operating system backup discs and it says you need to burn them yourself. I guess this is the new trend. It also has a pretty slim instruction manual as they want you to go online now for everything it seems. I love the fact that it has 2 hard drives so I can put Microsoft XP on one of the hard drives if I end up disliking Vista. Without the two hard drives you would have to partition your one hard drive in order to install the second operating system. That is something I hope I never have to attempt.
So, that is what I have been and will be doing for a while. Getting a new laptop is fun but getting it all set up and everything transferred is quite boring. It's amazing how old and clunky my 4+ year old Dell seems after getting the new laptop. Now I have to make some money with it!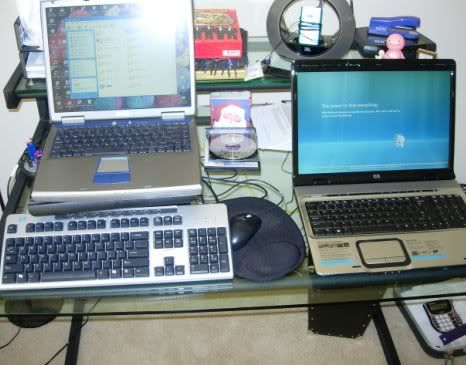 Old Dell Inspiron on the left, new HP on the right