Important: This post is no longer valid as Ebay's affiliate program is now run by Ebay itself instead of Commission Junction and this flexible destination tool no longer exists. You can do the same linking to specific auctions and auction search terms as you could before but now it is done a little differently on a different page. 
First off, you have to be accepted by Ebay's affiliate program through Commission Junction to benefit from this tool. It has been awhile since I have used it and I almost forgot about it. You can make any link you want into a link that will take the reader to a specific Ebay item search.
For instance, if you write a post on how great the last episode of the TV series Lost was, you can make that link take the reader right to all Lost DVD's on Ebay. If they were to then purchase anything on Ebay within a week after that (assuming they don't delete their cookies), you will get the commission.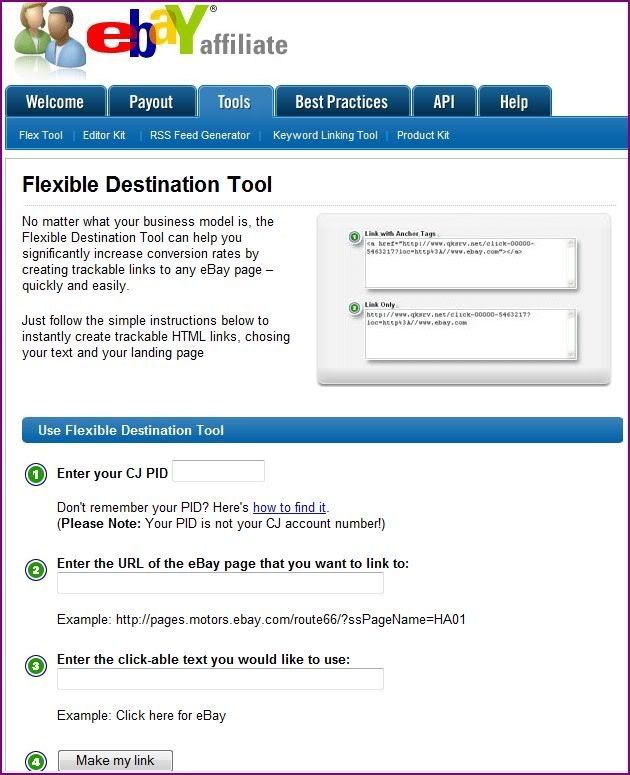 This is the link to Ebay's Flexible Destination Tool. First you need to get your Commission Junction PID number with is under "Accounts" and then "Web Site Settings". You enter that number on the screen where it asks for it (box #1).
Next, you will have to go to Ebay and do a search for the item you are interested in linking to. I did my search for "lost dvd season" which should pull up all DVD sets for the first three seasons of Lost. Copy the URL at the top of the page and past it into box #2.
In box #3 you type in the clickable text you want to use (I used "TV series Lost").
Finally you click the "Make my link" button and it will take you to the code. You copy and paste the HTML code in the code section of your new post where you want the link and that's it. Whenever someone clicks that link through to Ebay a cookie with your affiliate code has been placed and you are in line to get a commission if they make a purchase!