When I started this blog about 10 months ago, I was pretty clueless and you can go back and read some of the stuff I wrote to see. I thought it was OK at the time but looking back a lot of it was garbage. I did have somewhat of a plan, though, and that was to blog about finding work at home jobs and nuking my day job in 3 years. That was my hook and any hook is better than no hook. Many bloggers starting out have no plan at all and they never get anywhere. They want to make money blogging because they see others "supposedly" doing it and it looks easy. They think they can write well, gain a following, start charging for ads, and build an empire. All they end up with is an abandoned blog and no money.
I was CLUELESS
I began just like every other make money online blogger wannabe….by reading other blogs, believing the stuff I read, and then regurgitating it on my blog. I did try hard to write some original things like my post on how to make money selling golf balls and my 3 part review of incentivized freebie websites which could also have been called my Project Payday Review. I wrote a handful more creative posts about making money on Ebay and how I have been successful at that but eventually I ran out of things to say. I think that is why most bloggers give up….because they run out of things to write about.
StumbleUpon is fun but…
It was the golf ball post about how to sell used golf balls that got Stumbled and brought 17,000 hits visitors to this blog in two days. I thought that was tremendously exciting and I wanted more action from the social networking sites. The problem was though, that off of those 17,000 hits, I only made a little over a $100.00. Getting noticed is fun but making money is a lot more fun.  At least for me it is and $100.00 is not exciting at all for that amount of traffic.
If you read the other make money from home blogs they are all talking about StumbleUpon, Twitter, Facebook and other fun but worthless avenues to make money. Web 2.0 is all the rage and they all seem to be hooked on this worthless type of traffic. Additionally, these make money blogs all seem to preach the same garbage about signing up for PepperJam, TextlinkAds, AzoogleAds and who knows what else and most newbies can't signup fast enough. Three quarters of those blogs pushing that crap don't know how to make money at all and the other quarter might know but won't tell you. That's just the way it is with make money blogs. Everyone is trying to fool everyone else.
Time to Sell DayJob Nuker?
Several months ago I was thinking of giving up and selling this blog as I was hardly getting any search engine traffic. You need Google search engine traffic to make money with a blog and anyone who tells you differently is lying. The only way you don't need it is if you are somehow able to become famous and make a name for yourself. But that is a 1 in 10,000,000 shot so good luck with that one. I will stick with Google.
About that time I asked someone I trust what I should do with this blog. He said to try to get my page rank up (it was 0 at the time) and get a few more subscribers and then try to sell it to some newbie sucker on Sitepoint. That is what some blog owners have been doing lately and I guess there is indeed a sucker born every minute. I did wish I could unload this blog but I didn't think I could get enough to make me feel good about the time I have put into it.
Not Selling! Maybe I Will Never Sell
Luckily, I decided not to sell and in fact I have just paid for another year of hosting (read my Hostgator review) for DayJobNuker. Maybe I should pay for 10 years because I think I can make some pretty effortless money with this blog for some time to come. When I started out I was just writing to be writing and writing to entertain. Write naturally, I read on other blogs, and readers will come. Well thanks for that misleading bit of useless information. Again, what you read on 90% of the other "how to make money" blogs is either wrong, misleading, or useless information. Everyone seems to have advice and online, you just don't have to back it up.
Sometime early this year I did what I should have been doing from the start. I started targeting several search term phrases. Everyone and their brother goes after "make money online" so I have never been interested in that one. I went after stuff like work from home, easy work from home jobs, work from home jobs, make money without a website, work at home, and work at home jobs. Those terms are searched less but I have a better chance of getting somewhere with them. If I had only done that from the start I would have easily been on the first page for several of those terms and as it is I am solidly in 11th position for two of them. I cringe to think of all the comments I have left with "DayJobNuker" as the anchor text instead of one of those other five. Yes, I am in #1 position for DayJobnuker but where does that get me? Absolutely no where as no one searches for that and I hardly get any hits from that.
Google Search Hits Going Up
For well over a month now I have been getting over 100 search engine unique hits a day. I used to have trouble getting 40 and it is because of the phrases I have been slowly targeting and the increased age of this blog. I have to think that things will only get better in the future. You might have read in a previous post that I no longer care about having regular readers. This is true because I don't make any money from people who "like" to read what I have to say. They don't click on ads and sign up for things like a random person coming from a search engine might. As you can see below, 48% of my traffic is now coming from the search engines (mostly Google) and I hope I can work to get that number over 80%. If I can it will mean more money for me!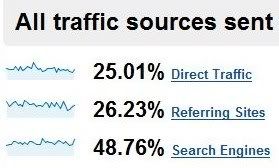 I don't care anymore about becoming a "hit" or having a cool blog. I am not good enough and I don't have enough time to ever make that pay off. I don't want to be tied to this blog and feeling like I have to post everyday. That is why I have hated to take in money for advertising. Once I accept money for advertising I feel like I have a responsibility to post regularly. If you are just starting a blog you should think about that. How long are you really going to be able to keep up your frequent posting of quality material? Most people don't last more that 3 months.
Removed Adsense and Put Up Yahoo Publisher Ads
I removed AdSense almost three months ago because no make money blog makes any real money with it and it just ends up smartpricing your whole network. I replaced it with Yahoo Publisher Ads and so far it has worked out well.  I manually put in the Yahoo Ads ONLY on the posts that get regular search engine traffic and then I also put it on the sidebar as you can see. This month I am averaging $2.50 per day and 30 cents per click for this blog and there is no evidence so far of any smartpricing. (Yahoo now smartprices just like Google) I know it takes most blogs 6 months to a year to make the $100 necessary to get paid with Adsence so if you have a home jobs blog, you might want to consider changing to Yahoo Ads and start getting 30 cents a click rather than the 7 to 10 cents you are probably getting right now. Remember though, if you are not getting search engine traffic, it will be hard to make money with either one as other bloggers will not click ads.
Other Money Makers
Other than the Yahoo Ads I have affiliate links which don't bring in too much but they do get occasional sales. I will be trying to post about new ways to make money or products that will make me money and hopefully it will be read by people coming from search engine land. One thing that people continually find this blog searching for is how to post to multiple cities on craigslist. I haven't figured a way to make money off that one yet and if anyone knows I'd love to know how. There is nothing on Clickbank and the one on PayDotCom makes no sales for me. It  is little changes like figuring out the right affiliate program to offer that I need to continue to work on.
Do I Need to Post?
My posting frequency has gone down dramatically and now I only post when I feel like it or if I am trying to accomplish something (as with this post). I will have to continue to get some links but for the most part I think I can do very little and still get the hits from Google because of the work I have put in to getting ranked. That is the difference between getting Google search engine traffic because you are ranked well for many terms and worthless StumbleUpon traffic. StumbleUpon traffic is tons of fun but it goes away. Then you have to write another hit post and another. Who wants to do that? It is a lot easier to keep your blog ranked for your targeted search terms than it is to keep on pumping out hit posts. And it pays better too.  
All this is basically the reason why I just paid for another year of hosting and will not be giving up this blog anytime soon. Although it does not make a lot by my standards or by most people's standards, I do know that it will continue to sit here and bring in $10.00 or so a day whether I work on it or not. The more work I put in building links and writing posts that target certain keywords, the more of a chance it will have of earning even more. Once I get on the first page from the 11th spot for those two keywords and continue to move up, things can only get better I would think for this work at home jobs blog.