This is going to be an ongoing post that I update when I have more news about my experiences with my lifetime membership with Article Marketer. This is real and I am going to cover both the good and the bad.
If you want to know more about duplicate content and how submitting articles to multiple sites will NOT hurt you in the eyes of Google please download this free eBook
On 5/15/08 I paid for the lifetime membership to Article Marketer. I can honestly say that this was the hardest decision I have had to make in my Internet marketing career. After reading this Article Marketer review I did of the free version, I never thought in a million years I would pay for the service. The one and only thing that convinced me to pay for the service was the comment exchange made in this post from Court's Internet Marketing School. If you go to the middle of all the comments for this post (about 41 comments down) you will see my comment (Work At Home – that's me) asking about Article Marketer. The subsequent exchange goes on for about 13 comments and ends with mine.
According to Court the AM free service is very poor (which I most certainly verified), but the paid service is better. Customer service may not be the best but I decided that on Court's recommendation I would sign up as I am serious about working at home.
Believe it or not, right away there were problems as I even had trouble signing up! The sign-up link was not working properly when I tried and I had to wait about a week for them to fix it. They did get around to it and I signed up for the lifetime membership at a price of $299.00. 
HERE IS HOW TO GET THE $299.00 PRICE: (note – this works as of 5/20/08 but may be changed in the future) If you want the lifetime plan for $299.00 click on the tab at the upper right of the home page that says "Today's Special". At the bottom of the next page you will have 4 options: Quarterly Membership, Annual Membership, Lifetime Membership, and Free Membership. The "Lifetime Membership" will quote a price of $399.00 right above the button. Don't click that button but click the "Annual Membership" button instead. Now you will be taken to a page where it asks you if you want to upgrade your account and offers a price of $299.00 for the Lifetime Membership. Click on the "upgrade my subscription" and you will get the $299.00 price.   6/17/08 Update – Sorry but it looks like this does not work anymore as there is no longer a "Today's Special" tab on the homepage.
So where does that leave me today? I joined 5 days ago and promptly submitted about 20 articles over the next 3 days. So far I have had 9 articles approved and "queued for distribution" as seen below. I cut off most of the titles of the articles for fear the screen isn't wide enough for most people.
I also have 13 or so articles pending review as seen below. If you submit an article it says it will be reviewed by the very next day and so far that has generally been correct. If an error is discovered by the live reviewer, after correcting the error your article will then be reviewed by the next day again and not that same day. That is a minor inconvenience and not something I am going to get too upset over.
At this point I have the 9 articles ready for distribution. So far when I click "report" by each of the articles I get nothing which means they have not been distributed. I am happy at this point at the pace with which my articles are being reviewed by Article Marketer but that is obviously only the first step. They need to be distributed, accepted, and then published elsewhere for me to benefit from them. I will update this post when I have more news to report as I want to give anyone that is interest a real understanding of what they can expect if they sign up for this service. I will also explain how the service works and what you need to do to get your articles approved. 
5/20/08
(update) I wrote this Article Marketer reveiw post in the morning of 5/20/08 and now six hours later I have 18 articles approved and awaiting distribution. Very, very good in that department and absolutely no comparison between the lifetime membership and the free version. None of the 18 articles have been distributed yet though.
5/22/08 
As of today all my articles have been approved but none of them have been distributed. It seems they are getting approved faster than I can write them and that is great. But just like several of the people that have commented so far, all my articles are sitting there in the "Articles Queued for Distribution" section.
When you submit an article to Article Marketer, it first has to get by the automated computer review. Things the computer will immediately reject are:
1) Articles that are too short. All articles must be over 400 words and anything under that will be rejected.
2)If your article has "hard breaks" which just means too many spaces between characters it wil be rejected.
3) Any HTML in the body of the article is a no no.
4)Any URL's in the body of the article is a no no.
If your article is rejected by the automated process you will receive an email and once you go in and correct your article you will not lose any time in terms of when it is set up to be reviewed. I have found the computer will reject your article within the first half an hour or so and thus if it is not rejected in that time period, it has passed the automated process. The next check is the live person check which I will go over next time.
5/24/08 – UPDATE
I woke up Friday morning and this is what my inbox looked like. Luckily I did not use my primary email address when I signed up for Article Marketerbecause everytime an article is distributed you will get an email from almost every place it is accepted.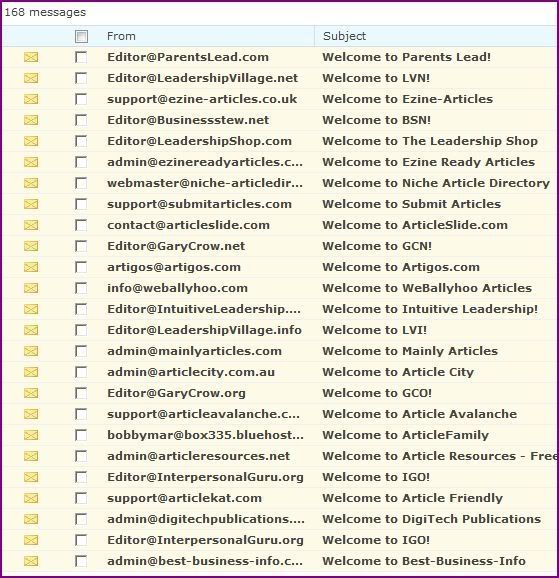 Right now I have a total of 26 articles I have submitted and 25 of them have been accepted. 7 of those accepted articles are still in the "Queued for Distribution" list while the other 18 are now in a section called "Distribution to the Complete List". Of those 18 articles, I show 4 of them have actually been distributed.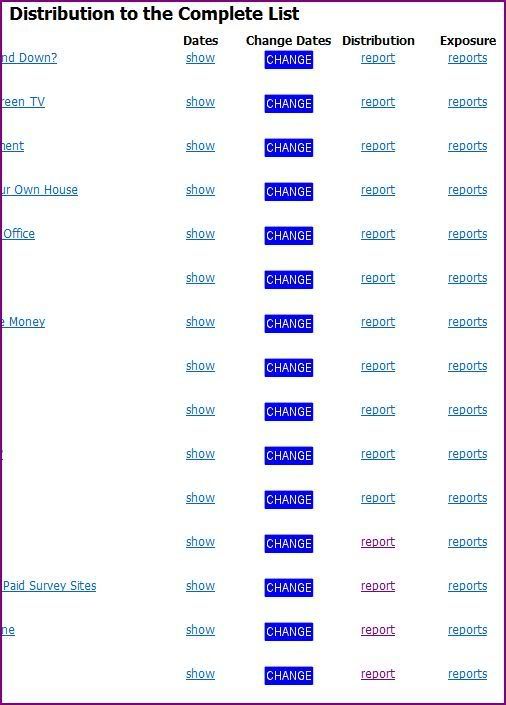 Of the 4 that have been distributed it says that they have been distributed 1294 times for the first article and 1048, 1048, and 1067 times for the other three. I have gotten 168 emails total from the article directories so I would say that out of all those distributions, my 4 articles have been accepted about 168 times. Not every article directory accepts articles right away of course so I hope that number will go up with time. I have gone into some of the directories that accepted my articles and I was able to find them. Most importantly, they did have the "author" box with my two anchored links back to my sites for each article that was accepted.
5/25/08
It is Sunday evening and all my articles have now passed the editorial review and most of them have actually been distributed. I have 26 total articles and all but 5 of them have been distrubuted. Most of them have been distributed (it says) to 1000+ sites and a couple articles to only several hundred sites. I came home this afternoon and my mailbox looked like this showing that I have gotten at least 625 of them accepted by the various article sites.
If you ever sign up with Article Marketer I strongly recommend using a secondary email and not your main email address because you will be getting TONS of acceptance emails from the directories.
I must say I am extremely relieved after spending $299.00 for the lifetime membership because the free version was so poor and it was a risk. However, I trusted Court's recommendation and it seems he was correct that this is the best way right now to get articles accepted to a ton of sites and get thousands of anchored backlinks. 
5/27/08
I now have the same # of articles as before on the distribution list (26) and I have gotten 878 emails from directories so that means my articles have been accepted at least 878 times. There is no way for me to know how many times each individual article has been accepted or to where, other than going manually through my emails to count. I have some more articles waiting to be approved by the Article Marketer real person review and I am trying to write and submit two articles every day if I can.
I hope those acceptance emails for the 26 that have been distributed will continue to trickle in. I know that many article directories accept articles only on their sweet time so I have to believe that more of my articles will be published when they get around to it.
On a seperate note, I am going to be watching to see if there is any movement on Google for some of my targeted terms in my anchored links. It is probably too soon for any change to be evident yet but that is the whole reason I am doing this: to move up and get higher in the Google search rankings for my niche websites.
5/28/08
A couple of days ago on this post I went over the computer automated review and what will get your article rejected. Once your article passes that review it then goes to a real person review. This is the review that can be more frustrating and this is because of the time lost.
With the automated review which happens right away, you can go right back in that same day and correct your errors and resubmit your article with no time lost in the que. However, it takes days to get to the real person review and once they reject your article you basically start from the beginning of the line again. The amount of days wait varies with what type of plan you have. I have tried the free service which I have said many times is worthless and very poor. The waiting time to get to the real person review is about 5 days and so when they reject your article, you then have to wait another 5 days again. If they reject it a second time you are looking at your third 5 day wait and so on. Again, I found the free service to be pretty much worthless.
With the Article Marketer lifetime plan I purchased, things have been much better. The waiting period to get to the real person review is supposed to be one business day and generally that is what it has been for me so far. If they reject your article you will then have to wait another day before they look at it again. With a one day waiting period that is no big deal and I don't mind at all. I cannot say for sure whether the quarterly and yearly memberships have the exact same one day waiting period but I think they do. What types of things will get your articles rejected by the live person? So far I have only had a rejection for using the wrong category and as they reject it they don't tell you what the correct category is. So, if you pick the wrong one again (or what they say is the wrong one) you can be picking categories for some time. Let me tell you, it makes me really try hard to look over all categories and pick what I believe to be the best one.
If there are two separate things wrong with your article, they will not tell you about them at the same time. For instance, you might have an article where your title is only two words (and thus too short) and you might also have HTML in the body of your article. You will first have your article rejected because of the title and after fixing that and resubmitting it you will then get a second rejection for the HTML. With the paid lifetime plan and only a 1 day waiting period this is no big deal but with the free service and a longer waiting time this becomes downright silly and frustrating to say the least.
If you have any questions about this Article Marketer review please post a comment and I will try to answer it.
5/31/08
This is an example of what the "Distribution Report" looks like. This option is not available in the free version. As you can see, it says my article has been distributed 994 times today and the real list goes on and on (I just copied the first few in the picture). That number might grow to around 1200 in a day or two. Being "distributed" is great but being accepted and published is far more important. I am still waiting for some more time to pass before I look at how many times my articles have been published.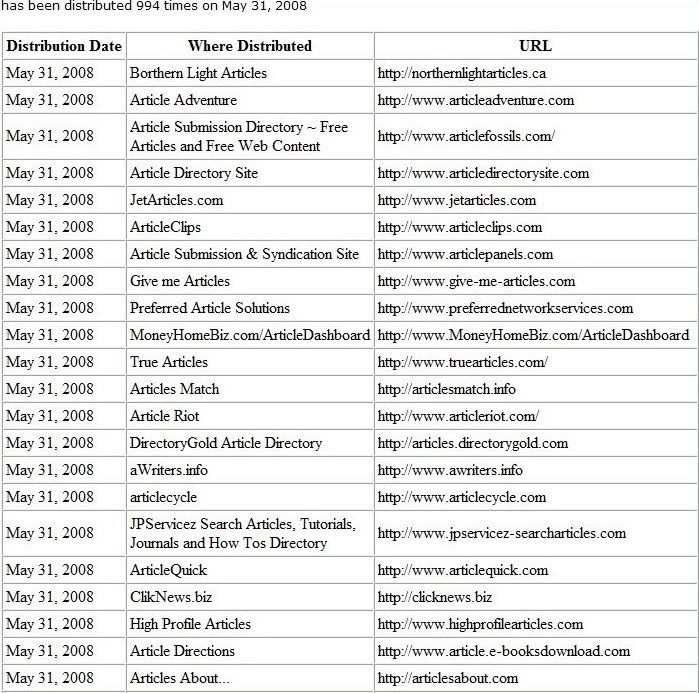 6/4/08
I paid for the lifetime membership to Article Marketer just about 3 weeks ago and this is a summary of what has happened since then. I now have 37 articles that have gone all the way through the real person review to being distributed to the complete list. There have been some minor bumps along the way but everything has been so much better than the free version. I have had my articles reviewed on time and I would say it averages about a week from the time I type in an article to the point where it is distributed to the list. If something gets rejected there is no more than another day wait with the lifetime membership so it is really nothing to get concerned about.
When an article is distributed to the "complete list" it gets sent to anywhere from about 900 – 1200 article directories. I assume the difference is because some of the directories are specialised and the topic of your article determines which directories it gets sent to.
Now the important part: how many times is each article actually published with the all important anchored links back to your sites? As far as I can tell, I would say this number is anywhere between 35 and 50 times per article. This number is similar to what I have heard others mention and that is what I am finding as well. The way to check it is by putting your article's title in quotes and doing a search on Google, Yahoo, or any other search engine. Actually, the 30 -50 number is only for Google as I have not checked the other search engines.
Every single one of those articles that I have gone to of mine has had the anchored links back to my sites. I have yet to find any one of my articles that was published without an "author box" or that did not have the links in the author box. The 35 – 50 number is a little disappointing as it is distributed to about a 1000 directories so that is a low percentage of acceptance. Yet, can you imagine how much time I have saved by not having to submit each article myself? If I had to type in 37 articles into an article submitting software and then submit each one to at least 50 different directories……..well that is why I paid for this service because I don't even want to think about how much time that would take!
Let me know if you have any questions by posting in the comments.
6/9/08
All 40+ articles that I have submitted to Article Marketer have now been distributed to the complete list. I did find a couple of articles that are published in directories that do not use the anchored text and so those directories are useless. Overall though, it seems that I am getting a lot of anchored links pointing to my sites and I am satisfied in that regard.
I must say that quite quickly I learned how to not get an article rejected. There have been a couple of comments about the high number of rejections and I had a problem with that as well when I tried the (very crappy and worthless) free version. Now I just go a little slower and make sure everything is in order before I push the final "submit" button.
One area that I wish they would improve upon is the lack of a pen name feature. Right now, you pick a name and that is the name you have to go with for all articles. A pen name feature similar to the one on EzineArticles would be simple to implement it seems and be very nice to help us leave a little less of a trail.
I wrote so many articles that I am burned out right now and I need to take a breather before writing and submitting more. I have yet to see a noticeable difference in any of my Google search rankings but I don't think I can realistically expect a change so soon. None of my rankings have gotten worse at least.
6/13/08

This is the new message that has just been put up on Article Marketer. I don't know whether it is a ploy to get more members or whether it is really going up but I thought I would post it anyway. It says that prices will be going up on Tuesday June 17th.
6/17/08
It appears that the prices have indeed gone up and only the "regular" prices are now available. In the opening entry of this post (way up at the top) I explained how I got the lifetime membership for $299.00. Now I cannot find any special pricing anywhere on the website.
Things have not changed since my 6/9/2008 post. I continue to submit about 1 article a day on average and they get looked at, approved, and then distributed in about 6 to 7 days. I get very few articles rejected (maybe 1 in 10) but it is easy to figure out how to correct it so they get through. I am not getting very much traffic from the articles but I am getting the anchored backlinks which is what I really want anyway. Any traffic would just be a bonus. Again, I have to admit I am extremely relieved that the paid service has been so good after using the free service that was so terrible.
6/28/08
Not much new to add so I think I might wrap this Article Marketer review up here. I am disappointed that Article Marketer says they distribute each and every article to over a 1000 directories and yet it seems only 30 – 60 of the directories accept the articles. Some of the directories accept every article and others only select ones on certain topics. However, it seems this may be something that is out of the control of Article Marketer and something that would be the same with any other paid service.
I have proven one thing for sure: the free service is absolutely awful and the paid yearly service fine. Yes, the customer service could be better, but I have really had no complaints at all other than that. I know that when I submit an article it will get distributed within a week and I don't have to worry about anything else. It beats the pants off of any of the free or paid article submission software I have tried. Enter the article once and forget about it….very nice.
I haven't gotten much traffic from the articles but I did not expect to. The real reason to write articles and have them submitted to different sites is so you can get anchored text links which will ultimately increase your search engine rankings. I have been getting those anchored links back to my sites. If you want traffic from your articles the best place to submit them is to ezinearticles.com and in fact I always submit my articles there first before I submit them to Article Marketer. I have gotten decent traffic from ezinearticles.com and so it is a small incovenience to submit my articles there as well.
About the price: I got in for a great lifetime membership rate of $299.00. They have now raised the price to $499.00 and I see they are talking about raising it to $799.00! I am definitely glad I got in so cheap but I would probably still pay the $499.00 price today. The $799.00 price seems high and that would most likely be too much for me. There are monthly and yearly rates as well which I haven't paid much attention to. Article Marketer does show charts on its website that show that at any price they are still much cheaper than their competition such as "isnare" and "Submit Your Article".
I will update this post if there is ever any change to the service or anything new to report. If you don't see an update after this it means that everything is fine and nothing has changed. If you have any questions please leave a comment or contact me throught the "Contact" page at the top of the website.
7/18/08
Just a quick note that the price are going to go up AGAIN(!!) on July 31st. The last time Article Marketer said they would raise the price they did, so they probably will again. If you are at all thinking about getting in on AM then I suggest you do it now this month because I think they are going to raise the prices significantly.
8/26/08
Well, they still have the "price is going up tomorrow" blurb on their site and yet the price has not been raised like they said it would be on 7/31/08. It is still $499.00 for the lifetime membership. Article Marketer is still a good deal at that price and I would pay the $499.00 today if I had to. Yes, $499.00 is a lot of money to most people but if you are already making money then it is an investment you might want to make. Of course you can try it for the monthly or yearly fee if you are not so sure. However,nothing has changed and all my articles continue to be reviewed distributed within a week and I almost never have anything rejected. It just takes a little getting used to the system and then it is fine.
9/3/08
The price of the life time membership has now gone up to $599.00. (sorry I haven't been paying attention to the monthly and yearly prices but I think they have gone up as well) Unfortunately, Article Marketer appears to be guilty of using scare tactic advertising, as they said on their website for a long time that it would go up to $799.00. Then they only raised it to $599.00. Now, on the bottom of the "Prices" page they are threatening to raise it again, this time to $999.99 as shown below:
* Hey Guys…
The Lifetime Membership is about to get a market rate adjustment.
The new price will soon be $999.99 – and it'll STILL be the lowest price anywhere.
So, they probably will raise it again sometime in the future but we know that the $999.99 price is just a bluff. Article Marketer is a great service and it is working very will for me now but it sure seems like they are doing what is so common in this industry: trying to scare people into buying things by threatening to raise the price.
9/19/08 Update
To anyone on the fence about Article Marketer I can make things more complicated for you 🙂 Please read my Article Marketer Automation Review which is a brand new article submitting service that is worth taking a look at. It has some different twists and advantages over AM and it is just out of Beta.
 12/06/08 Update
Things are back to normal at Article Marketer as I have just put in 3 articles and had them reviewed and distributed within 2 days. They also say that they are now lowering the price (I think really just keeping it the same) because of the bad economy. Now might be a good time to get in if you can afford it.
4/5/09 Update
Be sure to read the comments below this post. They are ongoing and various opinions are being expressed. Right now, all of my articles are still sailing through the review and distribution so I thing they have gotten most of their problems ironed out.
Again though, you need to slow down and check things before you push that "submit" button. I put in the time upfront to make sure my articles are correct, the links work, and they are in the right categories so that they don't get rejected and cause me undue frustration.