2013 Update – This post is real old (2008) and since I would NOT advise you to post your CashCrate referral link on Craigslist or to try to get referrals using Craigslist.
************************************************
How do some people get so many CashCrate referrals? As you can see below, member ID has made 748 referrals this month alone so far! If you figure each one of those is probably worth about $2.00 ($1.00 for each referral plus his cut of the surveys completed), member #419714 has made about $1500.00 this month alone! Who says CashCrate is a scam? As you go down the list the bottom one has made 327 referrals (that have completed a survey) and that number is way higher than what I am doing. Right now I have made 104 referrals this month and I sure would like to be making more.
I decided to see if I could do some sleuthing and figure out how these guys were getting so many CashCrate referrals. My first step was to take their Member ID # and combine that with the referral string and search for it in Google. I did find some information about Member #419714 and even found his website. I then found this quote in one of his comments: "I don't normally make that much from referrals, but that post I mentioned it on is the one that went viral and wound up on the front page of MSN.com. Obviously, that was good for a bunch of new sign-ups. I've also printed up some free business cards from VistaPrint with my referral ID and left them around grocery stores, bulletin boards, etc. It takes a long time to build a big base of referrals."
So, it looks like many of his Cash Crate referrals this month may be coming from a one time event which is not repeatable but his advice on printing business cards with his referral ID is a great one. I think you can get free business cards printed up online and putting them up on bulletin boards in grocery stores and college campuses might bring in some extra Cash Crate referrals for very little effort. I haven't tried this yet but I just may as it sounds simple and easy to do.
I could not find any information one the 2nd and 3rd spots on that contest list but I did find out how the 4th guy is doing it. I tracked down his website which is nothing more than a simple one page sales pitch. So that is the page he is using to get people to sign up but the big question is how is he getting traffic to that page? For that I used SEO Elite which is a great software program that does all sorts of incredible things and is a must if you seriously get into Internet marketing. SEO Elite will show you the back-links of any website you choose and it is how you can totally see what your competition is doing and discover how they are doing it.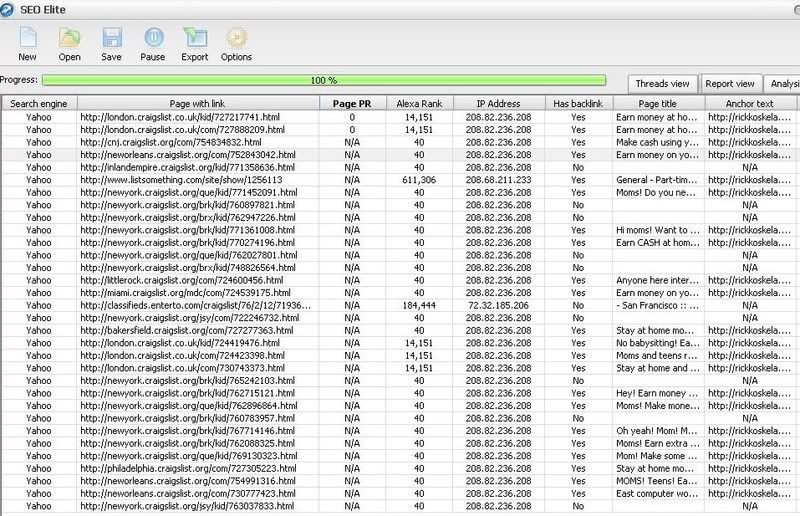 As you can see from the picture above, his website hardly has any back-links and they are all coming from Craigslist! He posts in the "General" category and I can't link to a post because it will expire and eventually lead to nothing but I have copied one of this ads:
Stay at home mom? Teen? Just need extra money but need to make it at home? Well, make that money any time you have free-time on your home computer.
Easy and requires your time more than skills.
http://rickkoskela.googlepages.com/home
Totally legit. I promise…you will receive a check.
So there you have it. That is how one of the guys on that list is making more than $600.00 a month with CashCrate referrals. Of course the http link in his ad takes you directly to that one page sales pitch and obviously it is working for him. He just keeps posting over and over to multiple cities on Craigslist and the referrals are coming in. It looks like his main city is New York which is one of the big ones. I hope you can get some ideas from this post on how you can start getting more CashCrate referrals or referrals to any other GPT site.
Using Craigslist may be a great way to get free traffic and referrals but it is temporary and only works as long as your ad is up. Once it expires or gets flagged, you are faced with the difficulty of trying to get more ads up and you are having to do that everyday.